We're all about keeping things simple around here. And sheet pans = simple. Especially when you can line your pan with foil and not even wash it. Or, quick rinse and toss it back into the oven. (Don't worry – I have a separate cookie sheet for my baked goods. I know you were worried….)
The beauty of a sheet pan dinner is you can throw all your vegetables and protein on the pan, throw it into the oven together, and it all finishes at the same time. And, since shrimp cook very quickly this is one of the fastest weeknight dinner recipes I can recommend. As always, I'm looking out for you guys and making sure you get your veggies, lean proteins, healthy fats, and the right amount of carbohydrates all wrapped up into one quick dinner. And, this recipe holds true to that!
These keep really well in the refrigerator – so think about making these as meal prep. Or, make a recipe and a half so you have leftovers for the week. <<And, I've never known anyone to be mad at the extra avocado sauce – use that on anything! A dip, a sandwich spread, avocado toast!>>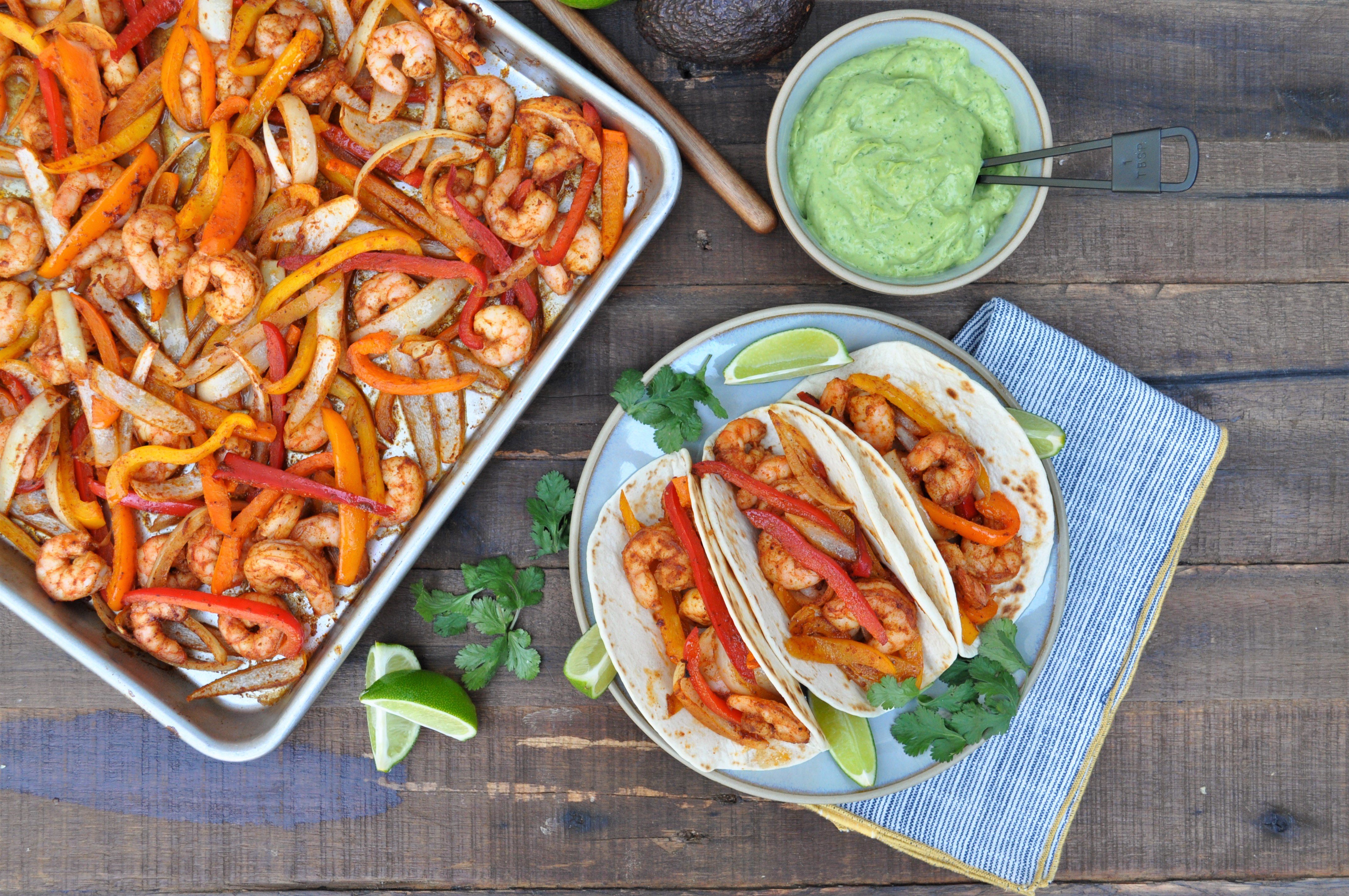 While the shrimp, peppers, and onions are in the oven, throw together your avocado sauce in a food processor or blender. If looks fancy, but I promise once you have the ingredients it's super easy. And, you definitely want the sauce. Make the sauce. Eat the sauce. It takes these from delicious to out of this world. Plus, you're adding in a healthy dose of poly- & mono- unsaturated fats from the avocado which are exceptional for heart health and reducing inflammation in the body.
I'm going to keep this brief so you can get to the kitchen sooner….
Ingredients
1 pound shrimp raw
3 bell peppers sliced (I used a red, orange, and yellow three pack from Aldi.)
1 onion sliced
3 Tbsp avocado oil or oil of choice
1 Tbsp chili powder
1/2 tsp paprika
1 tsp cumin
1/4 tsp black pepper
1/2 tsp salt
1/2 tsp coriander
8-10 tortillas

Avocado Sauce
1 avocado
1 clove garlic pressed
1/4 cup cilantro stems and leaves
1 Tbsp lime juice
1 Tbsp greek yogurt
1 Tbsp water or more for thinner sauce
1/4 tsp salt
Instructions

Heat oven to 400 with sheet pan in the oven.
Toss shrimp, peppers, and onions in a large bowl with avocado oil and spices.
Spread shrimp mixture onto hot sheet pan. Place in oven and cook for 8-10 minutes or until shrimp are cooked through.
While shrimp are cooking, prepare avocado sauce. Combine all ingredients in a food processor or blender. Blend until combined.
Notes

Other Thoughts:
If you are using frozen shrimp, I would recommend thawing your shrimp before cooking. I typically use frozen shrimp. Just place in a strainer and run cold water over them for 3-5 minutes until they break apart and are mostly thawed. And, you're ready to rock.

Like other veggies in your fajitas?! Add them! Just make sure you cut things in even sizes so they cook at the same time.

Get crazy and add any of your other favorite toppings as well. Salsa? Black beans? Go for it!

How-to-Use

Athletes: No matter whether you are in season or out of season, this recipe fits your needs. In a tough training block? Eat more tacos (aka more tortillas which equals more carbs) with less filling in each. Out of season? Eat 1 or 2 tortillas pilled high with the protein and veggies.

Healthy Eating: This is a great balance of all the nutrients you need for a healthy, balanced, fulfilling meal. Depending on your hunger level and activity, build your tacos how you want. But make sure you're getting enough protein and healthy fats to balance our your appetite and keep you full.

Kids: We might have to make my son a cheese quesadilla the nights we eat this meal. We always put some shrimp and peppers on his plate, but he chooses not to eat them. We subscribe to the theory of we decide WHAT to serve and the kids decide how MUCH they eat. But, I always include one food that I know they will eat. <<Cue quesadilla>> My daughter on the other hand gave this a whirl and loved the avocado sauce. Keep trying guys. Exposure is the best we can do!
Learn more about Meghann Featherstun and enjoy more of her recipes,
 

here.