Tastes like takeout. Delicious like takeout. Ready in the same amount of time it takes to pick up takeout. What's not to love here? We love using ground chicken breast in this recipe – but use whatever ground meat you'd like. You can also make it vegan by using tofu – it's delicious in this recipe!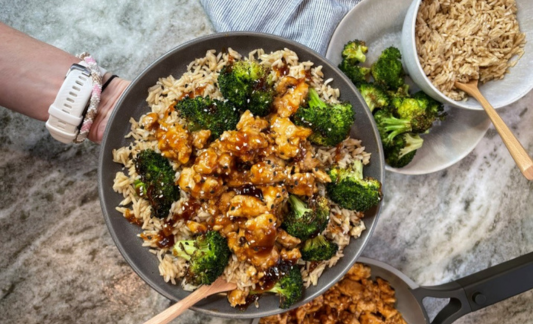 This recipe comes together in a jiffy and is sure to meet the nutrition needs of everyone in the house. Let them build their own bowl and adjust the amounts of rice, protein, and veggies to their liking. Plus, extra sauce. All the extra sauce. This sauce is so good – I won't blame you if you decide to drink a little out of the bowl.
If you're into making things look pretty, top your plate with some sesame seeds and chopped green onions.
This is also a great recipe for meal prep and leftovers. It saves well. And reheats well the next day. Enjoy!
INGREDIENTS
1 tbsp avocado oil
1 lb ground chicken
¼ cup soy sauce
⅓ cup brown sugar
1 tbsp rice vinegar
1 tbsp ginger, fresh
1 tbsp garlic, minced
1 tbsp sesame oil
1 tsp sriracha
1 tbsp corn starch
2 tbsp water
4-6 cups cooked rice
1 tbsp avocado oil
2 heads broccoli, chopped
sesame seeds
green onions, sliced
INSTRUCTIONS
Heat a skillet over medium-high heat. Add avocado oil.
Add ground chicken, press into a thin layer across the entire skillet – flat like a pancake. Cook for 4-5 minutes or until it starts to brown.
Flip & cook the other side until brown. once it has a nice brown sear to it and is cooked through, break it up into smaller pieces with your spatula & remove from heat.
Time to make the sauce. In a microwave-safe bowl, add soy sauce, brown sugar, rice vinegar, sesame oil, ginger, garlic & sriracha. Mix the cornstarch + water in a separate little bowl & whisk into the soy sauce mixture.
Microwave for 2-3 minutes, whisking every minute. Cook until bubbly & thick.
Pour the sauce over the chicken.
Toss your broccoli with the oil. Air-fry for 10 minutes at 325 degrees or steam in a pan with a little water until cooked to your liking.
Assemble your plate: Add 1-2 cups cooked rice + 1/4 the chicken + 1 cup broccoli.
Tips:
If you need to cook your rice, get that started before the chicken.
If you want to roast your broccoli, get that in the oven when you start your chicken.
If you don't have fresh ginger, substitute 1/4 tsp ground ginger.
A serving is 1/4 of the recipe – this gives you 28 gm of protein. Increase the serving if you need more.
How to Use: 
For athletes: Enjoy and adjust the amount of rice for your training. Remember those performance plates, as training increases we up the carbs and down the veg.
For healthy eating: Enjoy as the recipe states – add some extra broccoli if you'd like!
For kids: Let them assemble their own bowls, or if they don't like mixing food, each component can be eaten separately and tastes great. It's a great 'dipping' sauce.